Wood U18 11-1 AFC Croydon Athletic U18 (Thur 16th Oct)

Wood made hay on a superb Wibbandune surface and on a very mild evening against the basement team of the division. Michell saved superbly from Burke in the first minute but Burke opened the scoring on 4 minutes when Fidler robbed Michell and left a tap in for Wood's new leading goalscorer of the season. A further goal was ruled out for offside before Michell made two more fine saves and Ollivierre denied Burk with a fine tackle. Croydon reshuffled their defence but Wood kept pressing forward; the final pass on occasions just letting them down and Michell continued to impress, tipping over a Stevenson drive following a Yusuph run. Wood made it 2-0 on 23 minutes when some slick passing was ended by a fine Stevenson through ball which Agyapong collected and he rounded the keeper to score. The same two players repeated the move two minutes later with the same outcome (3-0) and Fidler chipped against the post having bamboozled three defenders on the left wing. From a long free kick, Knight forced a good tip over from Taras but on 32 minutes, it was 4-0 when Fidler and Burke linked well again for the latter to drive home unchallenged. Michell denied Fidler and Burke twice but Burke completed his hat trick on 36 minutes with a cool finish having been played in by Fidler. The Wood wide man deserved a goal of his own but he volleyed a Burke chest down wide of the mark before Agyapong completed his hat trick right on half time following some more fine team passing.
Banheld and Odame replaced Andon and Noyes for the visitors but the second half was just 3 minutes old when Wood struck again when Higgins played Burke in for a cool front post finish. Francis replaced the injured Timms for The Rams and Nuur took over from Agyapong. Belkaid defended well in conceding a corner and he headed that corner well clear before Knight flashed a shot inches wide following good play from Best-Osbourne. Knight shot just wide and Nuur saw a shot parried over the bar and Michell claimed two Higgins shots before Nuur tried his luck on 66 minutes from 30 yards and the ball flew in off the underside of the bar. Small made his debut when he replaced Higgins. Three minutes later it was 9-0 when Fidler rounded Michell to score before Dyer replaced Burke. On 75 minutes, a long and deep free kick was met by the head of the unchallenged Knight for a consolation goal. On 82 minutes, it was 10-1 when some good passing was rounded off by Small via a defenders leg while a rare over the top ball saw Fidler volley wide. Almost on the final whistle, a good run from Dyer saw his shot blocked but he reacted well to nod home Wood's eleventh goal of the night.
A comprehensive win with some slick passing and it is the league cup next week when Leatherhead are the visitors.
Cove 1-1 Wood (Sat 11th Oct)
Wood were without skipper Owen Davies and full back Harry Wise for their visit to league leaders Cove on Saturday. They added new signing from Ashford Town, Leithan Brimah, to their 15 man squad.
A beautifully warm autumn day and a good looking playing surface welcomed the teams and Embalo, back from suspension, chipped well wide with Cove goalkeeper, Freeman-Johnson, in no mans land. Boye saw off Smith and Hughes did likewise to Baxter as Cove posed the Wood defence many early problems and Sam Mead cleared off the line from Smith before Caesar produced a good midfield tackle. Freeman-Johnson blocked Embalo and Callum Eagle headed a Joe Mead cross behind as both sides sought an early advantage. Boye cleared well again and Pearce punched a throw in away before Wood failed to take advantage of three good corner kicks in succession from Joe Mead. Duuf made poor contact with a decent pull back and Akinwande was strong in the tackle; feeding Kingsbeer wide right but he cross was miskicked by Smith. Pearce saved from a wide open Smith and the same striker volleyed over before Joe mead chipped a shot over off balance. Parfitt was booked and Everiss should have done better in retrieving another long ball, the home side very direct at times, as half time arrived.
The general consensus was that a point today would be decent but that we would go for the win if we could and that thinking kept Wood positive and Cove on their toes, especially Sills who nodded back to his keeper well and Kingsbeer, who was booked for pulling back Ogunseye who was beginning to come alive as an attacking option. A fine reverse pass from Hughes saw Embalo blaze wildly wide while a poor touch from the otherwise impressive Sotoniwa saw the even more impressive Sam Mead deny Smith yet again, he and Baxter a constant threat to the Wood back line. There may have been a yellow card for Liam Eagle for a deliberate handball, the referee's decision making a little unclear, before Wood went ahead on 58 minutes when some sustained pressure and passing saw the ball fall to in form Ogunseye and he rifled a shot past the hapless keeper into the top of the net; a good finish.
Caesar, I think, was booked, probably for a comment regarding a deliberate Cove handball that may, or may not, have been given before Liam Eagle headed a corner over the bar. Duff headed over before a good nod down by Smith set up Baxter but, not for the first time, Boye blocked his effort. Williams saw off Kingsbeer before Burdon replaced Caesar. Sam Mead and Ogunseye both did well in defence and Sotoniwa headed well clear before Taiwo replaced Joe Mead.
Wood couldn't keep Cove out however and on 82 minutes it was 1-1 when, despite two desperate blocks, Smith managed to force home from close range and it was now game on.
Taiwo was booked before Embalo forced a good save when cutting in from the right and Taiwo volleyed over. Boye and Sam Mead (having a tremendous game) stood firm as Cove pressed on but Wood should have claimed the points when, after a lame shot into the side netting from Embalo, Hughes gave the same player a clear sight on goal but Freeman-Johnson saved very well and it was a point apiece; a fair result.
It is easy to see why Cove have been succesful this season. They are a strong and direct team, rather like Wood and the return fixture at Wibbandune just before Christmas is, already, keenly awaited.
TEAM – Pearce, Williams, Hughes, Sam Mead, Boye, Caesar, Joe Mead, Sotoniwa, Ogunseye, Harding, Embalo.
SUBS – Burdon, Curran, Brimah, Taiwo
Attendance - 44
Wood U18 0-2 Welling United U18 - Thur 9th Oct (fa youth cup 2Q)
Matt Steenson failed a pre match fitness test meaning a place at centre back for Alan Stevenson.
Gearge Brooker had signed for Barnet FC in midweek.
The Wibbandune pitch was in superb condition given all the earlier rain and it was the visitors who opened brightly and a lofted cross came back off the Wood crossbar and Taylor fired over the bar before Taras claimed a Sonduru cross well at the far post. Burke fired across the goalface under pressure from Dillon before some good passing and possession from Wood fizzled out as Welling defended well. Lonergan was late on the lively Sonduru as both sides emphasised their good starts to their respective league seasons with some quick passing and some outrageous individual moments of skill. Dillon fired inches over for The Wings from a Taylor corner and Taras tipped a Sonduru shot over before Burke, clearly offside, had the ball in the net following more good play from Agyapong. A shout from Wootten of "stop fouling" went unheard as Welling regularly allowed Wood out of tight situations with silly, petulant and impatient fouls. Lonergan showed great composure as did Higgins in setting up McKenzie whose shot was defelected to safety and Cottrell claimed at the feet of Burke following more good play from Fidler and Agyapong.
On 41 minutes, Welling went ahead when a fine free kick from Taylor was met by the unchallenged head of Plummer giving the rooted Taras no chance. Kempton replaced Wootten.
The second half opened with Burke firing over from a Higgins cross and Higgins set up McKenzie but he pulled his shot across the goal. At 0-1, the game was on a knife edge and stevenson, growing into his defensive role, produced a superbly timed tackle to deny Gunner. Stewart fired wide following a good Lonergan run and the fouled Agyapong hit the free kick well wide. There were some niggly free kicks conceded but the referee was allowing the game to flow and it was a good, if somewhat tense, watch. Magala-Bryan was playing with the spirit Wood required to get back into the game; something of an unsung hero in this squad, but he was replaced by Dyer who immediately crossed for Fidler on 72 minutes but he misread the flight. Fidler skipped past Ocran but his shot eluded the far post, a great chance gone, before Mallon replaced Olayokun for Welling. A superb McKenzie free kick saw no takers as did a similar dead ball from Taylor for Welling before the tie was over on 86 minutes when Sonduru netted from a tight angle with the outside of his foot following a good run. Higgins fired over and he forced a good save from Cottrell in stoppage time but Welling progressed to the next round and a trip to Hayes & Yeading United.
This is the kind of game that both of these squads need more of as the learning curve is vital for their development. Welling deserved their win; a well organised side that defended in groups and, like Wood, had pace up top. After a slow start, Wood were on the pace but, to be fair, they didn't create enough clear chances.
Wood 2-1 Shoreham (fa vase) - Sat 4th Oct
Wood went into this FA Vase tie without skipper Owen Davies (groin), Dan Hughes (course), Mario Embalo (suspended) and goalkeeper, Lee Pearce and their woes were added to when deputy keeper Pepperell failed to show meaning right back Tim Williams, bravely offering his services, played between the sticks.
Whether Shoreham skipper, Dunk, was aware of Wood's plight is uncertain but his shot from near the dugouts nearly caught Williams out and Wise defended a Bisard cross well before Ogunseye had a shot easily saved. Sam Mead cut out a dangerous pass and it was the Sussex vsistors who looked the better balanced side while Wood looked edgy at the back as Williams spilled a cross shot before Bisard saw his close range shot blocked. Shoreham went ahead on 15 minutes when Garrivier fed Dunk on the left. His far post cross was not dealt with and the ball fell kindly to Cradock who really couldn't miss from a couple of yards out. Harding won a midfield tackle but fired wide while Sam Mead crossed for his brother Joe, but he fired well wide as well. The heavy pre match rain left a slick playing surface which the Musselmen looked perfectly at home on while Wood looked unbalanced and cumbersome with only the driving runs of right back, Sam Mead, catching the eye. Boye, as ever, tackled Buggy superbly while Fleming headed a corner kick well wide and one felt a second visitors goal could leave Wood with too much to do. Emery headed a Joe Mead corner wide and Bisard should have done better when clean through on goal. Betts claimed the ball just ahead oh Harding while a Cradock drive was easily taken by Williams who, to be fair, had little to do in a dour first half. Another lame Bisard effort was followed by a superb Stevens cross but nobody attacked the box. There were good penalty shouts for the visitors when Curran clearly shoved Bisard but nothing was given and on half time, Damario fired well over the bar.
Half Time 0-1 – Not great!
Burdon was a tactical sacrifice for Wood and was replaced by Taiwo.
Cradock headed wide off balance but Wood looked a little more progressive now and a mazy run from Ogunseye forced a corner and Gregory, coming under more pressure now at right back, was forced to foul Taiwo. Joe Mead floated the free kick inches wide with Betts scrambling. Harding was late on Garrivier and Allan produced a good tackle on Ogunseye as the game failed to inspire the spectators of which the visitors had the most of. Ogunseye crossed to Harding but his contact on the ball was minimal but at least Wood were a bit of a threat now and on 61 minutes the scores were level when a neat Harding pass put Ogunseye in and he rounded Betts before finsihing neatly. Godstone replaced Cradock, something of a surprise, and a good break from Wood saw a cheeky volley from Wise which went just wide with Betts flat footed. Bisard was booked for a foul on Boye before Lorenzo replaced Damario. The game was stretched and Curran did well to head away a Buggy cross and Bisard headed poorly before being replaced by Best. He made an immediate impact when pulling the ball back for Godstone but Wise blocked his shot and on 85 minutes, Wood were in front when Harding managed to control a pass and his turn and pass put Ogunseye in again with a similar result to his first goal though a more difficult finish this time. Emery drove over from 30 yards and the excellent Allan, again, denied Ogunseye before the final whistle sounded.
Not the most inspiring game to be honest but Shoreham's players, officials and supporters were gracious in defeat and we hope to vsist them pre season in 2015. We wish them well. Next round is November 1st meaning our home game v Farnham Town will be re-arranged.
Wood U18 6-0 Hanworth Villa U18 - Thur 2nd Oct
Wood returned to the top of the central division table in great style against Hanworth Villa.
Wood were, immediately, on the front foot and a step over from Stevenson saw Dacres-Smith drive wide. Fidler fired wide as did Agyapong before Wood were ahead on 13 minutes. Stevenson, majestic in midfield fed a fine pass to Fidler and he finished coolly and three minutes later it was 2-0 when an audacious back heel from Stevenson, showing great awareness, found Burke who finished with aplomb. Yusuph looking progressive at right back was too quick for Horton and Cushen made a fine save from Burke before an even better one handed parry over the bar from a Stevenson drive. It was 3-0 on 25 minutes when Burke fed Fidler on the left. The crowd could see the obvious shot and Fidler obliged, curling beautifully into the top right hand corner. Arotaritei cleared a Yusuph cross and Stevenson was inches wide from 20 yards before Nuur made it 4-0 on 29 minutes via a sweet left footed shot after more excellent passing from the Wood team. Cushen saved from Nuur, showing some great skill on the ball and Lonergan headed a corner wide. For Villa, Soloman drove inches wide and Toussaint was further wide from distance before an audacious chip from Fidler hit the bar denying him a superb individual goal. Dyer found Burke well but Agyapong shot wide and Mendis robbed Dyer and forced an excellent save from Taras in the Wood goal. Kear denied Fidler just on half time.
Smith and Edwards replaced Horton and Murphy for the visitors at the start of the second half. O'Malley, the stand out visiting outfield player, blocked a shot bravely and he denied the rampaging Fidler as Villa looked more balanced and up for the challenge. Wood were awarded a penalty when kear handled on the floor but Dacres-Smith saw his excellent spot kick well saved by Cushen low to his right. However it was 5-0 on 67 minutes when Nuur and Yusuph combined well on the left to set up Fidler who completed his hat trick easily. Nrew recruit, Jamie Fisher replaced Dyer and on 79 minutes it was 6-0 when Cushen produced his only error of the evening in gifting the ball to Burke and he waited before scoring neatly. Bryan replaced the excellent Yusuph and he immediatley forced another fine save and dacres-Smith was inches over from 22 yards. Cushen denied Agyapong from point blank range and Lonergan soon after before tipping a Burke shot just past the far post. At the death, Dacres-Smith drove just over from 35 yards, no doubt looking to make amends for his penalty miss.
Some of the football this evening was a pleasure to watch and it will be fascinating to see what happens in next week's FA Youth Cup tie at home to Welling United, by all accounts, a very good side themselves!
Wood 3-0 Bedfont & Feltham (league cup) - Wed 1st Oct
Wood eased into the last 16 of the league cup with another disciplined performance against a useful Bedfont & Feltham from division 1 at Wibbandune.
Harding had the first effort on 4 minutes but his shot was blocked behind by Ataro but Wood were ahead a minute later when a Joe Mead corner to the far post was met by the unmarked Boye. His first effort was blocked on the line but he followed up to net easily. Emery produced a fine turn but his shot was deflected easily into the arms of Berte. Boye produced a fine tackle as Wood looked to ensure there was to be no cup upset while Ataro saw off the lively Ogunseye before a Busby drive was deflected to safety. Ataro was busy again in denying Harding before Joe Mead miscued a left footed shot. Davies blocked a Luke Craig effort before Ward was rather harshly booked for kicking the ball away having been penalised for a foul. Wood looked solid at the back with full backs Wise and Williams on their game while Bedfont had plenty of the ball but lacked a cutting edge up top Another superb win from Emery, cruising in midfield it seemed, underlined the work ethic before Sotoniwa headed a Wise free kick over. Pearce just tipped a Luke Craig shot wide and Wood should have had a penalty when Hunt clearly shoved Sotoniwa. Hughes, back from Las Vegas in the morning was working hard at both ends of the park and Ward should have done better with two crosses when in decent positions.
HT 1-0 – The game was more even as half time approached, Wood looking a little jaded but a full bench available for use.
Berte did superbly well at the feet of Ogunseye as Wood opened brightly and the Wood wide man will need to improve his heading having been set up by Sotoniwa and Hughes. There is nothing wrong with his legs, and pace in general however, as on 56 minutes it was 2-0. Harding did extremely well on the ball and his fine reverse ball was latched onto by Ogunseye and he drilled low into the corner giving Berte no chance. Patrick Craig replaced Busby and the visitors woes got worse almost immediately when Ward received a second yellow card for a clumsy challenge on Ogunseye, not in keeping with the excellent spirit of the game, and off he went. Ogunseye had a shot parried while Patrick Craig miskicked before Sanders replaced Moriarty and Velinor replaced Scarlett. Wood were awarded a penaltry on 76 minutes when Velinor blatantly pushed Joe Mead off the ball but Harding skied the spot kick well over the bar. Caesar replaced Hughes for Wood before Lambe hit a snapshot over the bar. Taiwo replaced Ogunseye and Burdon replaced the outstanding Emery before Wood added a third goal on 88 minutes. This was better from Harding as he shimmied a couple of times before finishing with some of the confidence that has been missing recently from his goalscoring.
This, eventually, was a decent win and for the third game running, no cards for Wood, a much nicer state of affairs.
TEAM – Pearce, Williams, Wise, Davies, Boye, Emery, Ogunseye, Sotoniwa, Joe Mead, Harding, Hughes.
SUBS – Burdon, Taiwo, Caesar, Sam Mead, Curran.
Attendance – 36.
Wood 2-0 Westfield - Sat 27th Sept
Wood claimed their 6th league win of the season when they, just about, saw off a determined Westfield at Wibbandune on Saturday. Wood were without the talismanic Embalo (suspended), Caesar (injured), Burdon (work), Hughes (Las Vegas) and Taiwo (hospitalised)! Mo Kamara was added to the squad as was 16 year old Freddie Agyapong from the youth team.
Wood really should have gone ahead on 7 minutes when good play from Kamara and a fine cross from Joe Mead saw Dan Harding hit the post with the goal gaping. Blackford fed Cheesman for the visitors and his cross to Placito saw Boye do well to block his effort and Oritis fired over the bar when falling backwards. Oritis did well to keep the ball but he volleyed over the bar before a good touch from Wise to Emery saw a fine pass to Ogunseye who beat Brawley in the Westfield goal but he overrun the ball out of play. The useful Wales had a cross blocked before a 30 yard Joe mead free kick was saved low to his left by Brawley. Harding forced a corner as the very stretched game continued to catch the eye although without the intensity of the previous Wednesday. Burnham did well to see off Ogunseye and more good skill from Kamara saw Sotoniwa drive straight at the keeper. Elliott drilled a low cross to the far post but there were no takers and a fine ball from Sotoniwa saw harding round Brawley but the keeper somehow recovered to deny him an open goal. Burnham headed a corner wide right on half time.
Curran replaced Davies at the resumption and Burnham blocked a Wise shot before Oritis failed to punish a rare Boye error. Sotoniwa had a shot blocked by the goalkeeper's chest and a deep cross from Williams saw the same player volley over the bar. Sotoniwa was the real driving force for Wood today and he did well to tee up Ogunseye but he pulled his shot wide of the far post. Wood went ahead on 56 minutes when Wise and Sotoniwa combined to set up Ogunseye who rounded the keeper to score nicely. Taylor replaced Placito and immediately crossed for Oritis who half volleyed over the bar. Joe Mead put Ogunseye in but he missed the far post and Parkinson headed just wide from another decent Taylor cross.Beale replaced Burnham. Curran saw of a Rose raid and conceded a corner while a Wales shot struck Wise on the hand but it was hardly intentional! On 78 minutes, Agyapong replaced Emery and a Joe mead shot was blocked before the young sub shot wide from the edge of the area. On 85 minutes, it looked game over as a long cross from Williams saw a hesitant Brawley beaten to the ball by the brave head of Agyapong and the ball entered the net despite a desperate clearance attempt by a defender. A ricochet off the referee saw Ogunseye in again but his shot was blocked as Wood claimed their sixth win out of seven at Wibbandune this season.
TEAM – Pearce, Williams, Wise, Davies, Boye, Joe Mead, Ogunseye, Emery, Sotoniwa, Harding, Kamara.
SUBS – Sam Mead, Agyapong, Curran
Attendance - 28
Wood 2-1 Spelthorne Sports - Weds 24th Sept
There was an impeccable minutes silence held for former Surrey FA officer John Crook ahead of yet another pulsating CCL match at Wibbandune. Spelthorne arrived unbeaten and their confidence was evident in the early stages as Staples had a shot blocked away although Sports keeper, Norman, had to be alert ahead of Embalo following an underhit back pass from Luckins. Staples crossed low to the front post to Stenning but Wood right back Williams cleared the danger well. Davies found Embalo who took the ball well but he fired over the bar in full flight. Mbonkwi headed an Atiase cross over the bar and the impressive Flatman fired a free kick straight at pearce. Wood were looking to get the ball forward quickly and Norman claimed an Ogunseye cross well before Flatman drove over the bar from 30 yards. Boye did superbly in seeing off Staples and his central defensive partner, and skipper, Davies did likewise with a fine clearing header. Hughes and Joe mead combined well but Spelly defended before Wood went ahead on 41 minutes. Embalo did brilliantly wide right and went past Driver in the area. He pulled the ball back well and amidst the chaos that ensued, Sotoniwa just got enough of the ball to score despite Norman's outstretched arm.
Wood saw off further threats easily to lead 1-0 at the interval.
Spelly had dominated possession in the first half but Wood had stood firm, restricting clear chances to an absolute minimum. The officials had hardly been seen thus far! Wood, usually out for the restart sharply, were later than usual tonight and Embalo fired weakly at Norman following a Joe Mead pass. Embalo was working his socks off as the lone striker and Wood's five man midfield were at full stretch to keep Spelly at bay underlined by a fine Burdon tackle. Sotoniwa just overhit a cross to Embalo and Flatman shot straight at Pearce before pearce saved well with his legs to deny the lively Mbonkwi. Flatman skimmed the crossbar from a free kick before the visitors levelled on 61 minutes. A cross from Driver saw a first header hit thebar and Mbonkwi was on hand to nod home easily. This really was a test of Wood's nerve now and pearce, again, denied Mbonkwi before Davis cleared an Atiase shot with Spelly looking like going ahead at any moment. Pearce parried a drive from the progressive Luckins and Burdon did well again to clear a dangerous cross behind. Atiase had two reasonable chances in quick succession, the second a header into the side netting before Taiwo replaced Joe mead on 69 minutes. Two minutes later Wood were ahead again. Ogunseye had too much pace for Driver down the left flank and, on entering the box, the defender was adjudged to have fouled. Embalo stepped up and drilled the ball home for his 10th league and cup goal this season (he missed the first four games)! Burdon and Wise produced great clearing headers before Embalo won a header and bore down on goal. His shot was parried away by Norman with nobody following up to score. Atiase skipped past Wise and squared to Mbonkwi but his shot was blocked well before Driver was booked for a poor foul on Boye, not in keeping with the superb character of both sides all evening. He was replaced, immediately, by Graham and Emery replaced Wise for Wood. Embalo repeated his earlier effort where once again nobody followed up to score following Norman's strong arm and Boye really should have been cautioned for a blatant shirt pull. Davies blocked superbly, again, and Ogunseye should have wrapped up the points when set up by Embalo but he missed the target from close range. Pearce saved well from Atiase before Sotoniwa saved the day in denying Graham. Flatman was booked for a foul on Ogunseye; Curran replaced Sotoniwa and Hicks drove wide before the final whistle sounded to end a wonderful advert for the league.
Great entertainment, well officiated and two sides that tried to play good football.
Defensively, and discipline wise, easily our best performance of the season with Embalo outstanding up top alone.
TEAM – Pearce, Williams, Wise, Burdon, Davies (c), Boye, Oguseye, Sotoniwa, Hughes, J Mead, Embalo.
SUBS – Emery, Taiwo, Curran.
Attendance - 72
Badshot Lea 1-1 Wood - Sat 20th Sept
A rather depleted Wood travelled to Badshot Lea on a sultry day to be greeted by a pitch of long grass that actually played better than it looked. Skipper, Owen Davies and Darren Caesar were injured and Qas Sotoniwa was serving the last of his three match suspension. Defender James Curran, was added to the squad. He was previously with Blackstones FC in the United Counties League. The Baggaies are under new management from today and will, no doubt, provide a stiff test. Wood, in their all green kit, looked the sharper and Harding flashed a header against the bar on 8 minutes before Wise headed a dangerous Baggies free kick clear. Harding was sharp again and his run and shot was tipped over by Watson as was an Embalo shot soon afterwards. Pearce was quick off his line to deny Muir and watson gathered the ball in safely following a goalmouth melee. Some good play by the home side saw Muir drive well wide and a fine free kick from Pearson saw Baggies skipper, Nimmo head over; a good chance that. Yet another Pearson free kick saw Nimmo nod back to Siemak but he contrived to miss a golden chance to open the scoring.
Wood went ahead on 36 minutes when Harding fed Embalo and although his shot was saved by the legs of Watson, Ogunseye was on hand to tap home at the far post. Pilgrim drove over from 30 yards and Hughes covered well before Embalo really should have extended the lead but he shot over having checked on to his right foot. Joe Mead tried his luck from distance to no avail as the half time whistle sounded.
HT 1-0 – Rather like Camberley game last week, will Wood rue not adding that second goal?
Pearson hit a free kick wide and Palmer set up Muir who shot weakly before Embalo had a shot deflected wide. Nimmo was the stand out player in this game along with McCallum and Boye was alert to see him off as the home side continued to put in the effort required when you are at the foot of the table as Wood know only too well from recent seasons. Siemak fouled Embalo but Wise hit the free kick well over as Wood failed to maintain their first half momentum. McCallum beat Hughes but shot over and a Jeffery free kick was palmed away by Pearce before Sam Mead hit the upright from a right wing cross. Watson punched clear ahead of Embalo and Williams replaced Sam Mead on 72 minutes. A minute later it was 1-1. Whether Pearce really needed to come off his line is unsure as there appeared to be enough cover around, but he did catch Siemak and Palmer converted the spot kick. Quiassaca was booked for throwing the ball at a prostrate player and he was taken off immediately and replaced by Curran for his debut. Boye was cautioned for an innocuous looking challenge and Ogunseye pulled the ball back to Embalo who hit the post as did Joe mead from the rebound. A mishit Embalo cross was well kept alive by Williams and the subsequent cross saw Watson save well from the head of Burdon. A Pearce miskick went unpunished by Turner as he fired over the bar and a Curran head clear fell to Jeffery but Pearce saved well. Harding had a penalty shout turned down, rightly so, before Pearce kept out Pearson as the sides settled for a point apiece which was probably about right.
TEAM – Pearce, Hughes, Wise, Sam Mead, Boye (c), Joe Mead, Ogunseye, Burdon, Quiassaca, Harding, Embalo.
SUBS – Williams, Curran.
Attendance - 40
Wood U18 3-2 Balham U18 - Thur 18th Sept
Wood and Balham served up an entertaining game on Thursday evening. Omar Belkaid and Liam Yusuph returned to the starting line up with Romel Blair and Elliot Dyer added to the bench.
The game started well for Balham who were ahead within two minutes when Haire fed Roberts-Winton on the left and he pulled the ball back to Archard who scored well. On 5 minutes, it got worse for the home side when a poor pass from Belkaid to Dacres-Smith was pounced on by Haire and he scored easily past Taras. Wood needed a quick response and they got in on 7 minutes when a pull back from the right was met by Burke whose shot took a deflection and spun past Miller. Taras saved well from Bashir and he denied the same player soon after before Francois did well to deny Roberts-Winton. Wood were rather lax in their passing and Archard had a shot saved easily before Wood levelled on 19 minutes. Brooker played a nice pass to Fidler and he finished nicely from close range. Brooker was put in by a defensive error but Miller denied him and Fidler set up Burke but he shot wide. A clever stepover from a corner saw Brooker fire over the bar and Agypong found the same player who showed a great touch before shooting over again. Bashir denied a rampaging Yusuph and Mafolo-Rodriguez, looking solid for Balham denied Fidler.
Half Time 2-2 – A pacey and skilful game mixed with some basic errors made for a very watchable first half.
Stevenson drilled just over from 30 yards as Wood opened this half much better and Balham, defending well, were looking to counter attack when they could. Yusuph set up Brooker but he fired over before Blair replaced Wood skipper, Dacres-Smith. Brooker had a shot saved and a free kick deflected behind and Archard halted Fidler in his tracks before Campesato-Pires replaced Roberts-Winton. Stevenson, now without Dacres-Smith, looked in complete control in the centre midfield role and Blair forced a save from Miller from an Agypong corner. Mitchell broke clear for Balham but Steenson, quietly going about his business, defended well and cleared and Balham continued to deny Wood any clear openings marshalled well by Romeko and Mafolo-Rodriguez. Brooker put Blair away on the left and his cut back and shot flew inches wide of the far post. Wood found the breakthrough on 77 minutes when Fidler danced his way along the 18 yard line before firing left footed past a hapless Miller. Burke blazed over leaning back from a Blair pass and Stephens replaced Bashir for Balham. Miller saved a rasping Agypong drive by palming over the bar and Clarke replaced Romeko for Balham. Archard fired wide from 35 yards and he floated a free kick which was not cleared but Taras saved at point blank range from Akinrinade. Nuur replaced Stevenson and Belkaid blocked a free kick behind as Wood saw off the late threat to maintain their 100% start to the league season. This was a real test for Wood and the return fixture will be eagerly anticipated.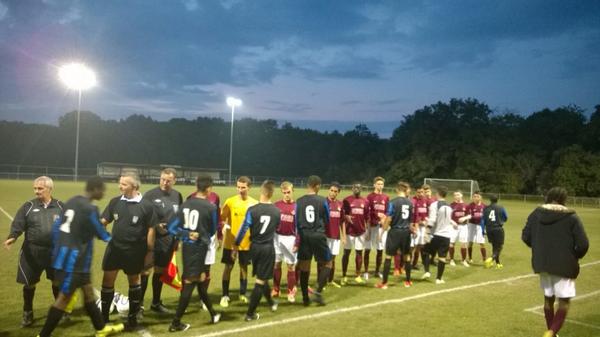 Wood v Balham 18th September 2014
Camberley Town 2-1 Wood - Sat 13th Sept
Another disappointing league defeat at Krooner Park for The Wood but a much better showing this time round which, probably, deserved a point. Chris Burdon came in for Darren Caesar who was injured in the warm up leaving Wood with just one sub on the bench.
Joe mead had the first shot, easily claimed by Aulsburry and Quarshie fired high and wide under pressure from Boye for Cambo. Embalo got in on the right and fired wildly wide when a pull back looked the better option to the three waiting Wood players. Boye really should have been cautioned for a wild lunge in front of the dugouts on Slater while Quarshie and Wood keeper, Pearce, offered some handbags when Pearce raised his leg in protection in claiming the ball. Burch cleared a dangerous Embalo cross and Quiassaca was booked for a late challenge on Bunyan. Slater had a run but shot well wide before Wood went ahead on 22 minutes. Embalo received the ball near the 18 yard line. He jinked two defenders before smashing a volley past the hapless Aulsburry into the middle corner of the net. Quiassaca volleyed well over and Wood were clearly the better side with Cambo guilty of wasteful passing and a distinct lack of energy throughout the team. Sowdon fired straight at Pearce, Dormer cleared a Wise free kick well and Burch nodded back to his keeper. Boye produced another fine clearing header and Quiassaca fired over the bar while off balance. Burdon and Joe Mead were working hard for midfield parity and doing a good job too and Hughes, Harding and Embalo combined well with the latter firing wide on the spin.
Half Time 0-1 and the home support generous in their praise of the visiting side.
Wood were expecting an onslaught in the second half and they weren't disappointed at all. Kelsey replaced Slater for the home side and Burdon immediately did well to block a Humphrey effort. The Wood back four looked up for the challenge and skipper, davies, epitomised this with a brave header before Bunyan was booked for the home side. Burch did really well to see off the rampaging Embalo as did Garstang in calmly nodding to his keeper. On 68 minutes the game was all square when a poor Wood corner was hoiked upfield to Bunyan. He nodded the ball on to Smith who smashed home from 12 yards virtually unchallenged low to pearce's left. And three minutes later, it got worse for Wood when Embalo was dismissed for elbowing Jewell who was forced to leave the field, replaced by Ford. He immediately crossed to Bunyan whose rocket header hit the bar and Hughes managed to nod a clearance inches wide of the upright. Ogunseye replaced Davies who had gone in the groin and camberley were now going for the proverbial jugular with a more direct approach. Coles replaced Dprmer, Joe mead hit a lame free kick at the keeper and Quiassaca really should have put Wood ahead when over Aulsberry but agonisingly wide of his far post. Burch was rather late on Pearce but their were no histrionics from the big man and when Quiassaca fed Ogunseye it was game on but the wide man flashed his shot an inch wide with Aulsberry rooted. 5 minutes into stoppage time, Cambo stole the points when a cross from the left was deftly glanced by the head of Bunyan leaving Pearce no chance and the cheers could be heard for miles around from the home support. Humphrey was booked for a late challenge and pearce saved when Kelsey was in on goal and that was that. A game of two halves I guess and Wood will need to be patched up before they head to Badshot Lea next Saturday for another tough examination. Socially, after the game, we took stock of our injuries and unavailabilities and we may need a couple of midweek signings and youth team call ups. Onwards and upwards! Excellent catering at Krooner Park as well by the way!
TEAM – Pearce, S Mead, Wise, Boye, Davies (c), J Mead, Quiassaca, Burdon, D Hughes, Harding, Embalo.
SUBS – Ogunseye, Caesar, Williams.
Attendance - 66
Wood 4-3 Horley Town - Wed 10th Sept
Wood and Horley Town served up some great entertainment at Wibbandune with Wood prevailing by the odd goal in seven. Wood were without the suspended Qas Sotoniwa and Will Boye was on a course.
An even opening was broken when Wood went ahead on ten minutes. Harding robbed Herdman and found Quiassaca. He, in turn, fed Ogunseye wide on the left and his dangerous low cross was turned into his own net by the off balance Turner. Nadeson found McElligott well and he was in on goal but, somehow, he missed the target. Both sides were giving it a real go in an entertaing opening and Hyde came off his line twice to deny Embalo. Embalo beat Poplett and fed Harding but he skied over before Horley levelled on 19 minutes when a Smith free kick from wide right eluded everyone and flew into the far corner of the net. Nadeson did well in defence to deny a fine Wood passing move and Hughes just overhit to Ogunseye, a continuous threat wide right. Hyde saved well with his feet from Harding and he made a superb one handed save from an excellent Wise free kick over the wall. Wise crossed from the left and Embalo headed well but Hyde made another fine stop before Quiassaca fired just over the bar. Wood regained the advantage on 32 minutes when Hughes fed Embalo. He baet Turner and passed to Joe Mead who drilled home from 22 yards low to Hyde's right for a fine goal. McElligott crossed for Poplett but Pearce saved his header easily before Sullivan replaced Smith. Hyde denied Ogunseye at his near post, again with his legs while Jupp headed a free kick well wide. Casear put Ogunseye in again but Hyde matched him again while Pearce sorted out some hesitant defending when denying the opportunist Herdman.
Half time 2-1.
Within a minute of the resumption, Wood had a penalty when Conteh clearly shoved Ogunseye off the ball and caesar made no mistake from the spot. However, five minutes later, it was 3-2 when Wise inexplicably handled a flick on and Nadeson converted easily. Nadeson put in a superb cross but nobody attacked the box and Sullivan had a drive deflected wide as Horley began to dominate. Sam Mead produced a fine clearance before Pullin replaced McElligott on 61 minutes. Herdman was booked for a foul on Embalo but this game was about the football and Owen did well to deny Pullin before Wood went 4-2 up on 68 minutes with another fine goal. Caesar got the better of Herdman, a good battle all night between these two, and he fed Taiwo, on for Quiassaca wide right. He attacked the flank before his pinpoint low cross was smashed home by the onrushing Embalo.
Horley refused to lie down and on 70 minutes, it was 4-3. With a player down, the visitors played on and, in the confusion, Pullin curled home into the far corner to set up a frantic last twenty minutes. A Poplett free kick was sliced by a Wood defender to Herdman but Pearce was quick and just got enough of the ball to concede a corner kick. Nason replaced Jupp and Williams replaced Harding and it was Wood who finished the game with a small level of control and territory before Caesar volleyed wide at the death.
A cracking game and that is now 15 goals in three games for Wood. The win also elevated Wood up to seventh place in the table, their highest position for quite some time!
TEAM – Pearce, S Mead, Hughes, Davies (c), Wise, J Mead, Ogunseye, Caesar, Quiassaca, Harding, Embalo.
SUBS – Taiwo, Williams, Burdon
Attendance - 45
Holmesdale 4-5 Wood (AET) - Sat 6th September (FA Vase)
More late cry offs threatened to ruin Wood's chances in this keenly contested FA Vase tie at a sultry Oakley Road on Saturday. Green and Stewart looked lively up top for the home side and Green had a shot blocked before Embalo blazed over the bar for the visitors. Hyde produced a superb save from Embalo before Holmesdale took the lead on 9 minutes when a free kick, swung in from the right, saw Cumberbatch head home unchallenged, Wood, no doubt, missing Will Boye's presence who was unavailable due to holidays. Hyde denied Embalo again and harding volleyed well over as Wood sought an equaliser and that arrived on 21 minutes. Sotoniwa did well in defence and found Quiassaca. He put Embalo away, clearly not offside, and he rounded Hyde to score easily. Pearce saved well to deny the rampaging Stewart and he did better to deny the same player with his legs. But the home striker could not be denied in the 32nd minute. A rather harsh foul was given which was quickly taken to Stewart. He spun sharply and finished well to make it 2-1. On 41 minutes it was 3-1 via the penalty spot when Green was allegedly fouled on the corner of the area. Collier sent Pearce the wrong way and two incidents soon after suggested the referee was not in full control with both sides guilty of cynical fouls which went unpunished save for free kicks. Half time gave everyone a chance to cool down.
On 49 minutes it was 3-2 when Embalo headed home unmarked from a right hand side free kick from Wise, not unlike Holmesdale's opening goal. It was game on now and the home side looked edgy and were certainly quieter. Quiassaca fired just over the bar from 25 yards and Hyde made two superb blocks before Embalo's effort was, somehow, blocked up and over the bar. Ogunseye replaced Wise who had a decent return to the side but is clearly not match fit yet. Pearce in the Wood goal continued to entertain what crowd he could find with his antics and commentary before a Holmesdale player (16) was booked (many numbers didn't match the team sheet for some reason). Joe Mead replaced the injured Davies. Wood looked sharper now but were not at their best but Embalo completed his hat trick when teed up by Harding, he smashed the ball home off the far post. From a corner, an excellent downward header was cleared off the line by Hughes and Joe mead produced a fine clearance as Holmesdale threatened to regain the lead. However, on 81 minutes, A fine run and finish from Ogunseye put Wood ahead but that lead lasted just 3 minutes as Stewart showed great feet before smasing home off the under side of the bar. Prescott was booked and caesar cleared superbly before a second yellow card for 16 saw the home side down to ten men. In stoppage time an innocuous long free kick saw the referee award a penalty, for what nobody knows, which Pearce saved well to his left.
In extra time, Hyde saved well from Embalo and denied Ogunseye and, with all subs used and Stewart clearly injured, the home side had 9 fit players on the field. Taiwo should have been booked for a foul but in the 110th minute, Wood went ahead when Joe mead put Embalo away. Hyde only got one hand to the ball and the pacy striker netted his fourth goal which proved to be the winner, earning a home tioe against Shoreham in October in the next round. An exciting tie at times with Wood happy to progress against a similar side to themselves.
TEAM – Pearce, S Mead, Wise, Davies (c), Sotoniwa, Caesar, Quiassaca, Taiwo, Hughes, Harding, Embalo.
SUBS – Ogunseye, J Mead.
Attendance – 72.
Wood U18 13-0 Spelthorne Sports U18 - Thur 4th September

Wood's new look under 18 side got off to a flying start against league new boys, Spelthorne Sports.
Only 5 players (four who played tonight) remain from last season and they certainly showed their intention to have a succesful season.
Having missed several chances already, Wood went ahead on 11 minutes when Dacres-Smith found Stevenson and he chipped home delightfully from 25 yards. Fidler and Brooker wasted glorious chances before it was 2-0 on 22 minutes when Brooker fed Burke and he rounded Kieran Williams in the Spelly goal to score. A good run and chip inches wide from Scully suggested the visitors may rally but on 26 minutes it was 3-0 when Brooker fed Stevenson and although Williams had a hand on the ball, Stevenson nicked it away and scored from a tight angle. Two minutes later it was 4-0 when a clearance hit the unfortunate Revell in the face and the ball trickled into the corner of the net. Williams was busy and doing quite well in goal but on 33 minutes it was 5-0 when Burke and Brooker linked well for the latter to score having rounded the keeper easily. Fidler made it 6 on 36 minutes and two minutes later it was 7 when Brooker had far too much time before rifling a drive home. Stevenson finished easily to make it 8-0 and Fidler set up Francois for a neat finish right on half time.
King replaced Deverill for Spelly. Dacres-Smith almost scored from the restart but it was Spelthorne who opened the second half much better, pressing their hosts higher up the field and Taras was forced into his first save from a Solly header. Williams denied Nuur before it was double figures on the hour mark when Nuur converted a Francois run and pass. Jones replaced Nuur straightaway. It was 11-0 on 65 minutes when Fidler finished off more excellent work from Francois before Magala-Bryan and Agypong replaced Lonergan and Brooker who had really caught the eye. Crease replaced Gilbert for Spelly before it was 12-0 on 72 minutes when Agypong slipped Jones in for, yet another, neat finish. Jones produced a moment of outrageous skill near the by-line and King and Gargan continued to work tirelessly for the vistors. Hall replaced Rowe before Wood made it 13-0 right on time when a Fidler run and slightly deflected shot sailed into the net.
Such one sided results make gauging this Wood side difficult but the attitude was spot on all night and there is plenty of obvious talent available. One would think a tougher test lies ahead aagainst Egham Town on Monday night, lights permitting! Fair play to Spelthorne too who will learn from the experience and they should improve accordingly.
Wood 6-1 Bedfont Sports - Sat 30th August
This was more like it from Wood as they put Monday's disappointing day well and truly behind them. Eli Ogunseye returned to the squad and Charlie Emery was a midweek new signing.
Mooney saw a volley deflected over as Sports forced three early corners and Caesar for the home side tried two efforts as the game settled into a decent rhythm. Green cut out an Embalo threat but it was already clear that the home side's pace up top was a real threat and Green was cautioned for hauling back Sotoniwa. Ottoway, at left back, looked in good nick when twice cutting out a Bedfont threat and Wines in the visitors goal was alert to deny Embalo who had earlier fired off the target on two occasions. Sam Mead fed Sotoniwa but he scuffed a shot past the far post and Fearn was booked for a pull back on Harding. Mooney beat Ottoway but his shot was tipped behind by Pearce and Hughes defended well as Sports contined to threaten the Wood goal. The back four was solid however, particularly in the air where Wood have had problems over recent years. Quiassaca, on his game today, crossed superbly but Embalo's header went downwards and bounced up against the bar and the chance went begging. Wood went ahead on 41 minutes. Harding lost control but won the ball back and he set up Embalo for the easiest of tap ins. A groundhopper, all the way from Wigan (!), was enjoying the game and half time arrived with the visitors having forced no less than ten corners and a tentative lead for Wood.
Sotoniwa's instep drive rattled the crossbar following more fine play from Caesar before Bedfont levelled on 53 minutes. Green had a free header blocked but Sitch was alert to attack the box before curling an excellent shot into the far corner. Wood regained the lead three minutes later following some patient midfield passing. Embalo hit the byline and pulled back for Harding who fired home confidently. Read replaced Roberts for Bedfont and Hughes failed to connect after Wines spilled a cross shot. Wines tipped a Caesar drive behind as Wood began to dominate the game since Bedfont equalised. Sitch was booked for a foul on 64 minutes and Caesar's free kick was missed by everyone except Boye, ghosting in at the far post to head home a decisive third goal. And a minute later, it was 4-1 when Embalo and Harding combined again, much like the second goal, for the latter to finish well again. Burdon replaced Sotoniwa before some desperate Wood defending ensued as Bedfont continued to take the game to the home side. When they were beaten, Pearce was in no mood to concede pulling of numerous good saves and brave blocks. Bokowski replaced Byron and Williams came on for Sam Mead. Pearce made a spectacular, if unnecessary save for the photographer, who wasn't there; Upjohn replaced Pitt and Wood made it 5-1 on 80 minutes when Harding, on the left, returned the two earlier compliments in setting up Embalo for his second goal from a tight angle. Ogunseye replaced the impressive Quiassaca and Pearce made two further excellent saves. In the second minute of stoppage time it was 6-1 (a bit hard on Bedfont) when Ogunseye and Embalo linked well on the right for the former to finish excellently into the far corner.
A full bench, no cards issued, good match officials and six Wood goals. Just about the perfect day against a Bedfont side who played a full part in the entertainment in forcing eighteen corners, numerous saves and will have better days defensively.
TEAM – Pearce, S Mead, Ottoway, Davies (c), Boye, Sotoniwa, Quiassaca, Caesar, Hughes, Harding, Embalo.
SUBS – Ogunseye, Taiwo, Burdon, Emery, Williams.
Attendance - 33
Raynes Park Vale 3-0 Wood - Mon 25th August
Wood, with only 12 available players, ended up well beaten at Grand Drive following a controversial moment in the second half.
The first half, played in driving rain was, largely forgettable with Vale dominating the first 20 minutes but Wood gradually forced their way into the game. Lee Pearce made a couple of decent saves but Vale were generally wasteful with their opportunities. Two decent efforts from Caesar had the Vale keeper scurrying and saving and Wood should have had a penalty when Hughes was clearly tripped on the corner of the box.
The second period looked to be going nowhere as well with lame efforts from both sides although Sotoniwa got to the line and pulled back to nobody and Embalo looked to have been tripped in the area but, again, nothing given. Vale were workmanlike, if unspectacular and they were handed a huge advantage when Sotoniwa retaliated on Moore who had kicked out at the Wood midfielder. Wood were down to ten men while Moore was only cautioned, a shocking decision!
Apart from the tireless Hughes, Wood were losing their heads rather and Quiassaca was booked for an outburst and on 80 minutes came the crucial first goal when Sehu released Hickford who finished neatly. Wood tried to press on leaving gaps at the back now. Mussard replaced Williams and Wood went three at the back and on 86 minutes, the game was up when a Forbes shot deflected wickedly of Boye giving Pearce no chance; a goal that summed up Wood's day. In the fifth minute of stoppage time, Moore rubbed salt into the deep Wood wounds when rounding Pearce and netting from a tight angle following some catastrophic, car crash defending.
Wood will need to put this game out of their minds, and quickly. The no shows hurt as did the ill discipline on the field. A major shake up looks likely ahead of bedfont Sports' visit on Saturday.
TEAM – Pearce, S Mead, Davies (c), Boye, Hughes, Williams, Sotoniwa, Caesar, Harding, Quiassaca, Embalo.
SUB – Mussard.
Attendance – 44 and a used condom!
Wood 3-2 Epsom & Ewell - Sat 23rd August
A depleted 13 man Wood side, due to a wedding and holidays, took to the Wibbandune pitch against a side with a superb recent record against the South London side. There were late call ups for Borkloe (not 100% fit) and Bakici from last season's youth team, with Borkloe completing a full 90 minutes!
It was Wood who opened the scoring on 5 minutes when Embalo skipped past former Wood player, Tanton, and he pulled the ball back for Harding whose neat finish past another ex Wood player in goalkeeper, Eacott, lifted the home support. A penalty shout was turned down, rightly, with The Salts defender having unintentionally blocked Embalo's drive but it rteally should have been 2-0 on 20 minutes when a superb Caesar pass put Embalo away put he fired straight at the sprawling Eacott and the chance was gone. Taylor should have been cautioned for pulling back a rampant Taiwo and Quiassaca fired straight at Eacott as Wood continued to threaten a second goal. Pearce, in the Wood goal, had made just one catch in the opening 25 minutes although a fine angled pass from Smith saw Marvell volley well wide before Epsom had a strong penalty shout turned down when Boye clattered into Taylor. Wood fell asleep to a quick throw in and taylor pulled the ball back well but there was not a single visiting player in sight. On 33 minutes, the, otherwise, excellent Caesar was caught on the ball and Pearce made a fine block from the onrushing Marvell, the visitors best player by a long way. Davies cleaned up any further danger. Marvell and Taylor combined again with the latter's powerful header going well wide and Boye offered more heroic defending when he denied Robinson at the far post. Eacott spilled a low cross and Sotoniwa saw his shot cleared off the line and Embalo headed over ahead of Eacott following good play from Harding.
HT 1-0 – A deserved lead but an even game as half time approached.
Dewar replaced Farrell. Dan Hughes arrived from the Joe Mead wedding to take his place on the bench. Eacott made a good claim before Harding was booked for dissent. Taiwo did well again to find Quiassaca but he shot wide despite good build up play and Davies provided a superb towering defensive header as Wood fought to hold on to their lead. However, on 56 minutes, it was 1-1 when Marvell retrieved a wayward cross and his far post cross was volleyed home by the unmarked Dewar. Sotoniwa and Caesar both received cautions following a midfield melee and Sotoniwa fired wide of the far post before Wood regained the advantage on 70 minutes. A short free kick from Davies found Quiassaca on the right. He hit the perfect far post cross where Taiwo looped a fine header over Eacott. Taylor netted from an offside position before it was all square again on 76 minutes. Dewar did well on the right and his cross (it just couldn't have been a shot) sailed over Pearce and into the net. A short break to repair the goal net allowed for a drinks break and some "banter" (the football word of the week) between the visiting bench and home spectators. Eacott saved easily from Taiwo and, from a throw in by Quiassaca, Harding back heeled neatly to Embalo but he blazed his shot over the bar. Hughes replaced Quiassaca on 84 minutes and Pearce just did enough to tip a Robinson half volley over the bar as both sides went for maximum points. A superb cut out from Boye allowed Caesar to break but his drive was tipped around the far post by Eacott before Wood won the game in the second minute of stoppage time. Caesar fed Embalo on the left of the box. He dropped a shoulder on a defender and fired powerfully past Eacott at his front post.
Cue girl like screams from male spectators who really should know better!
A deserved three points ahead of a tough derby match on Monday morning.
TEAM – Pearce, Borkloe, Davies (c), Boye, Williams, Quiassaca, Sotoniwa, Caesar, Harding, Taiwo, Embalo.
SUBS – Hughes, Bakici.
Attendance - 40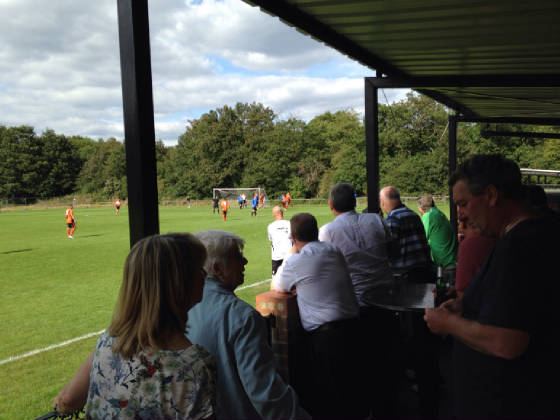 Wood 0-1 Lordswood - Sat 16th August
Wood exited from the FA Cup at the first hurdle with a below par performance at Wibbandune on Saturday.
Byott saved a Quiassaca shot as Wood opened strongly against a nervy looking Lordswood defence but the visitors soon found their stride going forward. A low cross was miskicked by Smith and, with the goal gaping, Munn failed to connect. Ottoway shot well wide before a Haffner chip into the area was headed wide by Hallett. Byott claimed well ahead of Harding and Boye cleared following a complete miskick by Pearce in the Wood goal. Woodhouse overhit a cross for Quiassaca and sam mead blocked and Englefield shot as the game ebbed and flowed. Byott claimed a Woodhouse long range effort whilst Pearce did exactly the same from a Haffner effort. Caesar drove just over from 30 yards but Wood were finding it hard to make real inroads into the Lords organised defence.Kane received a free kick unmarked in the area but he miscued his hooked volley and Harding had a volley blocked before Williams cut out a dangerous Hallett pass well. Just on half time, Embalo, bak from suspension, was in but Byott saw him off well.
Simmons replaced Hallett as the second half started as the first had ended with Embalo having a one on one with Byott but he saved the day one handed. Davies blocked a Simmons shot before Byott denied Harding with his legs.
Lordswood went ahead on 59 minutes when a long ball caught out the Wood defence and Smith had all the time in the world to drive home easily. Hughes replaced Williams. Embalo rampaged to the goal line and his pull back was somehow cleared over the bar by Wells. Woodridge replaced Smith and Joe Mead replaced Ottoway. Caesar fouled Haffner but his free kick went well over the bar before Taiwo replaced Quiassaca. Embalo brought a pass down well but his chipped shot was weak. Crump replaced Munn. Woodhouse curled over the bar and Englefield almost punished some lax defending but Pearce tipped his shot wide. Boye was injured and a long stoppage ensued. Pearce went up for a corner but mistimed an overhead kick and from a long goal kick Woodhouse was in but volleyed over from ten yards summing up Wood's rather lethargic display. They did create more chances but the visitors looked the better all round team and deservedly progressed. We wish them well.
TEAM – Pearce, S Mead, Davies (c), Boye, Williams, Ottoway, Quiassaca, Caesar, Harding, Woodhouse, Embalo.
SUBS – J Mead, Hughes, Taiwo, Sotoniwa.
Attendance - 32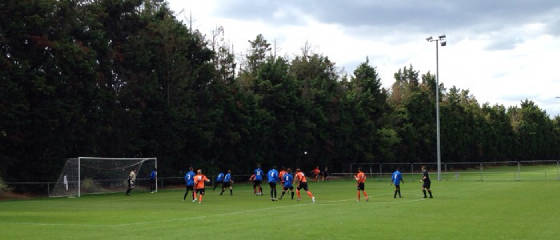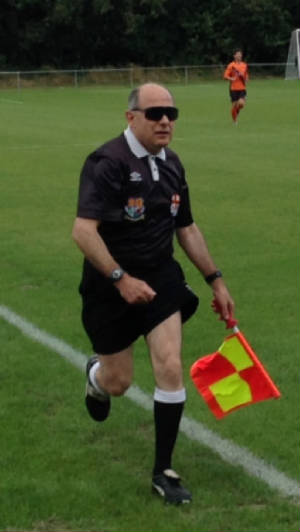 Molesey 2-1 Wood - Tue 12th August
Driving rain at kick off failed to dampen what proved to be a keenly fought game at the new look Walton Road. Wood were without skipper, Will Boye while Mario Embalo was serving the last of his four match ban.
Molesey were off to a flyer and were awarded a penalty for a shove by Sotoniwa which Pearce saved well to his left from Baxter. The resultant corner was headed off the line and pearce saved well by tipping an effort over the bar. But Molesey's early dominance was not to be denied when slack marking allowed Palmer to drive home into the far corner. Pearce made a brave claim and a fine angled ball from Ottoway saw Allen hurt in the Moles goal area after a collision with Harding. Sotoniwa was booked for a challenge on Grobler which was barely a foul and Palmer drove wide from 18 yards. The pitch, though flat and green really needs broad leaf weed treatment and the improved floodlights need some fine tuning but the enclosed feel gave the sense of a Ryman South game; certainly the football and effort was worthy of that at times! Caesar had a shot deflected wide following good work from Harding and a free kick awarded to Molesey may have been a Wood penalty on another day; the referee tending to favour the home side. Spencer headed well over from a corner but on 32 minutes Wood were level. Harding was hauled back on the goal line (no caution???) and Ottoway drilled the ball to the front post which was curling in before Lewington, the Moles skipper, had the final touch to ensure parity.
Both sides continued to bellow at a nervous referee and a long ball was well taken down by McShane. Pearce blocked his effort and the follow up from Baxter went inches wide. McShane did really well to clear a Davies header off the line and the hard working Harding left Weighill floundering before his cross was cleared. Davies was booked for pulling back Palmer.
HT 1-1
Allen did well early in the second half to deny Quiassaca and Windsor headed over as the battle re commenced and pearce tipped a Rodney drive wide before an elegant bit of skill from Wood's left back Ottoway had even the home fans applauding. It was a watchable and enjoyable game marred only by a rather hesitant referee. Pearce tipped a deflection off Sam Mead wide and the Wood stopper denied Palmer, again, as Moles began to get on top. Joe Mead replaced Burdon.
That Molesey dominance was rewarded on 66 minutes when a fine ball to the far post saw Baxter chest the ball neatly down and smash it home with Pearce having no chance.
Woodhouse replaced Taiwo and Fidler replaced Sotoniwa for Wood.
Quiassace, clearly offside, fired well over and McShane hit the bar before a sublime pass from Caesar put Quiassaca in with only the keeper to beat but he lobbed his effort wide. In stoppage time, a fine Wood move saw Fidler in on the left but he slotted the chance inches wide of the far post. Harding was booked as the final whistle sounded. No doubt much relief for the home side who ended their Wood hoodoo and maintained their 100% record....just.
Wood will go into Saturday's FA Cup tie in good spirits and with a full squad available.
TEAM – Pearce, Williams, Ottoway, S Mead, Davies (c), Burdon, Sotoniwa, Caesar, Quiassaca, Harding, Taiwo.
SUBS – Fidler, J Mead, Hughes, Woodhouse.
Wood 2-1 Windsor - Sat 9th August
Unfortunately, cricket commitments meant I wasn't at this game but, by all accounts, our 12 available players put in a good shift to defeat Windsor at home for the first time. Nathan Jones gave the visitors a 31st minute lead but, following a booking for skipper, Will Boye, Darren Caesar levelled on 41 minutes. He put Wood ahead on 49 minutes from the penalty spot and Wood worked tirelessly to defend that lead to the end to secure our first points of the season
Molesey away on Tuesday may require more of the same!
TEAM - Pearce, Williams, Ottoway, Davies, Boye, Burdon, Sotoniwa, Caesar, Quiassaca, D Harding, Taiwo.
SUB - Fidler.
Wood 0-3 Ashford Town - Wed 6th August
Wood remain without a goal or a point from their first two league matches as they lost 0-3 to a well organised and entertaining Ashford Town at Wibbandune.
Wood could have gone ahead on 3 minutes but Tobin denied Woodhouse and that miss was punished on 6 minutes when Beadle was allowed too much time and he finished easily past Pearce. It was 2-0 on 10 minutes when some neat passing was finished well by Dan Fleming from close range. Tobin was continually alert in the Tangerines goal denying Dan Harding and two Bitmead low crosses just eluded Pearce's far post. Dan Harding was denied by a superb block and Ashford missed a double chance to put the game out of sight, the second effort hitting the upright. Finally, a fine Woodhouse run ended with a chipped shot inches wide of the far post.
The vistors continued to react first to any loose balls while Wood's passing game was thwarted by quick closing down all over the park. Pearce denied Beadle and saved easily from Fleming and Webb as Ashford dominated. Sotoniwa replaced Williams and Mitchell replaced the yellow carded Quiassaca and, although both sides were similar in their style of play, the occasional direct ball added to a passing format, Ashford were, quite simply, better at it. Pearce, again, denied Bitmead and Tobin saved with his feet from Woodhouse before Joe Hughes missed an open goal for Ashford. Joe Mead replaced Ottoway before Joe Hughes missed again from close range. Woodhouse was dismissed for a second yellow card and, on 88 minutes, Curtis curled a shot home to claim the three points.
Ashford, well supported, will be a candidate for the CCL title on this showing, they did play very well, while Wood badly missed Owen Davies and Mario Embalo. Not everyone will agree with me but I thought the referee did very well, certainly making fewer mistakes than many of the players on show!
Good to see a decent attendance at Wibbandune which was looking in good nick apart from the visitors shower pump not working. Our apologies but these things do happen!
Windsor at home on Saturday at 3pm; another tough test but Wood, I am sure, will be fine this season.
Team:- Pearce, Williams, Hughes, S Mead, Boye, Ottoway, J Harding, Caesar, Quiassaca, D Harding, Woodhouse.
Subs – J Mead, Mitchell, Burdon, Taiwo, Sotoniwa.
Attendance - 126
Superb Match Photos Here (David Bauckham)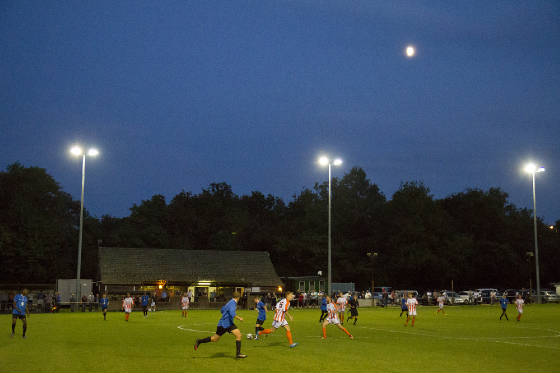 Wood v Ashford Under The Lights at Wibbandune